On 27 July 2018, deputy director Zhuang Dongxiao was invited by the China Pacific Insurance Company Ltd Xiamen Branch (hereinafter referred to as CPIC Xiamen) to deliver a lecture for the company training. Present at the lecture were Ms. Wang Miaohui the manager of the compliance department, Mr. Chen Tianci the manager of the claim department and around 40 colleagues from the two departments.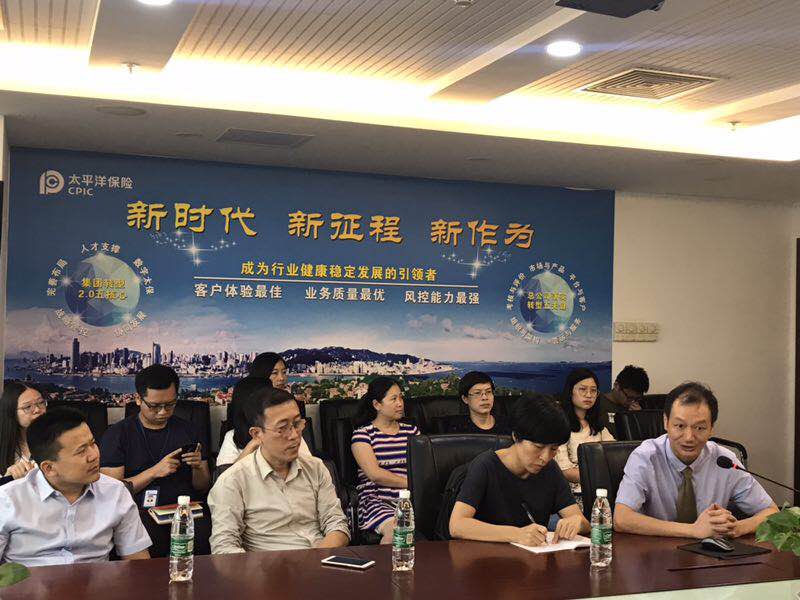 Mr. Zhuang addressed on Typical Cases of Compensation for Non-vehicle Insurance in Practice. He related to his experience of teaching the Maritime Code and the Marine Insurance Act in the university, his practice of handling non-vehicle insurance claim and his duties as a member of the insurance committee of the Guangdong Lawyers Association. He divided his lecture into four parts——property insurance, engineering insurance, legal issues on tort liability law and insurance liability, relevant legal issues on cargo transportation insurance. Each part is supported by in-dept analysis of typical cases. The lecture was an integration of teaching theoretical knowledge and exchanging practice experience. The attendees felt enlightened by the rich content and vivid presentation. Leaders, professionals and staff thought highly of the lecture.
Hu Yongcheng the director of Yang & Lin Xiamen office, Liang Su lawyer from Fuzhou office, and Zourong lawyer from Guangzhou headquarter attended the lecture.